Information
Mueang Pathum Thani Historic Site was established to publicize Pathum Thani's tourist destinations. It was built in 2010. Inside are exhibitions on Pathum Thani's archaeological history, settlements, as well as culture, tradition and wisdom in the way of life of Pathum Thani locals from birth to death. Inside is a hall which displays the history, creation, religion, art and culture, tradition and wisdom of Pathum Thani. A lotus-shaped room screens a movie about stories of Pathum Thani city. In the center of the room stands a model depicting the tradition of offering food to a hundred monks. On the right are Mon puppets, poles with swan-shaped paper at the top, millipede-like flags, and a model of a boat.
Information from: website http://www.pathumthanitourist.com
Management
Government Organization
Organization Museum
Lifestyle/ Culture / Tradition / wisdom /Religion
Map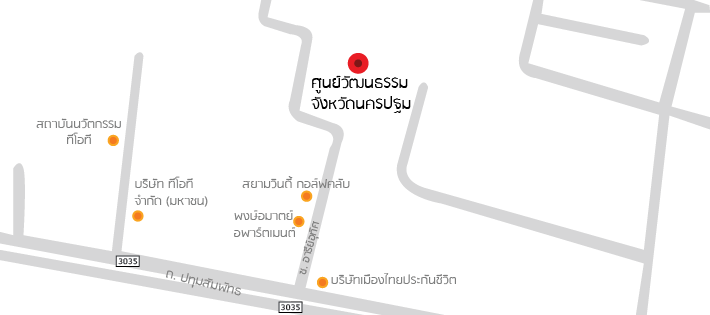 Address And Contact Number
Pathum Thani Cultural Office, Ted Pathum Road, Muang District, Pathum Thani, 12000 Bang Pora Ok Mueang Pathum Thani Pathum Thani 12000
Telephone : 02 581 1237

Operating hours
Open Monday - Friday at 08.30 am - 04.30 pm.
Getting There
With private car: From Bangkok, take Highway number 1. Then turn left to Highway number 346 (Rangsit-Pathumthani) until reaching Santi Suk Intersection. Then turn left to Highway number 3111. Drive to Pathum Wilai Intersection, then turn left to Highway number 3035. Go straight, then turn left to Soi beside TMB Bank. Drive for 600 m, the destination is on the left.
Proper for General Public
Proper
Improper
Proper for Children
Proper
Improper
Advanced Booking
Reservation is not needed.